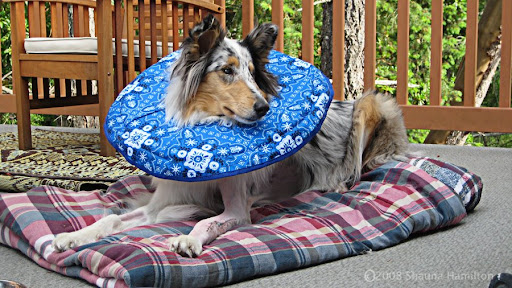 Spending more time on the sundeck while Oberon recovers. I will use the time to tidy up the deck. Hmm the terra cotta head is topsy-turvy. I'll begin with that-Yikes!
I almost drop the head with a start!
Out pops a long, pale, green muscular leg, dangling its shapely form like Claudette Colbert stopping a passing car.
In a split second my mind flashes multiple images - Oberon's shaved post-operation leg, a human leg - nah too small and green - aha leprechaun!
Then it jumped and so did I!
And it scurried under Oberon. Obers cuddled up with it as if to protect it. How long have they been chummin' together I wonder? How dare she keep secrets from me- after all the slippers I have sacrificed to her puppy teeth!
I was already planning my 3 wishes while parting Ober's furry hind to find my leprechaun ... lo and behold thar it was ---Aahhw the sweetest little Pacific Tree Frog chillin' with Obers as casual as you please.

The frog and Oberon are so gentle and at ease - like they've known each other for ages